Think Spain gets more public holidays than Germany? Think again...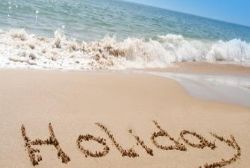 The number of national and regional holidays being proposed for next year in Spain falls closely in line with numbers in the rest of Europe, according to a review of the 2016 calendars in different countries.
As EL PAÍS reported this week ow the Labour Ministry is in the next few days due to release the 2016 national work calendar, which will include the dates of official holidays for all Spanish workers. It will consist of eight national holidays, four regional celebrations and two other local days.
In Germany, workers are also entitled to 14 holiday days during the calendar year while in France the number of official observances falls just one short of the Spanish calendar.
Here is a list of the holidays celebrated across Europe :
France : The French calendar includes 11 national holidays, plus two additional days that are celebrated at the local or regional levels. Six of those holidays are Catholic celebrations, while three others commemorate key historical dates: Bastille Day and the anniversaries of the signing of the armistices that ended both World War I and World War II. Like the Spanish, the French love to get out of their cities when they have a long weekend. However, when holidays fall on a Sunday, French workers are not given an additional day to make up for their lost day off. Neither are the dates changed when holidays fall on a Tuesday or Thursday, which would avoid workers "bridging" them by taking an extra day in between to create a four-day weekend, the same as occurs in Spain.
Germany :German federal law stipulates that workers are given at least 20 days of vacation, but that period is usually longer thanks to the collective bargaining and individual contracts between employee and employer. Federal regional governments are responsible for setting the 14 public holidays, except for the nationally celebrated German Unity Day, which falls on October 3. The rest mark religious occasions. German workers can create long weekends by combining a holiday that falls, for example, on a Wednesday or Thursday, with additional days from their entitled vacation allowance.
Italy :The Italians have 12 holiday days a year, most of them religious celebrations. There are 11 national holidays, plus the feast day of the local saint. The calendar does not change from year to year: it has been fixed by law since 1949. If a holiday falls on a Sunday, it is not changed for another day, neither are holidays that fall midweek switched to Mondays or Fridays.
Britain :The UK will have just eight public holidays next year, and the government usually switches them to the Monday nearest the official date they fall on, with the exception of four that are untouchable: Christmas, Boxing Day, New Year's Day and Good Friday.
Belgium :The country that hosts the headquarters of most of the European Union's institutions celebrates 10 national holidays plus a handful of regional and local days. If a holiday falls on a Sunday, it is switched to the next work day. The majority of them are religious celebrations, something that, unlike in other countries, tends not to create controversy. Long Spanish-style 'bridge' weekends are closely linked to the school calendar. Some local authorities allow schools to authorize long weekends frequently requested by parents because of vacations or days off.
Greece :The Greek calendar contains 14 national holidays next year, the majority of them Orthodox Church celebrations. Because many of them have to fall on a Monday or Friday – such as Clean Monday, the Church's equivalent to Ash Wednesday – there isn't much room for Greeks to take an entire week off. Only four holidays are non-religious in nature: International Workers' Day on May 1; the anniversary of the 1973 Athens Polytechneio uprising, which led to the fall of the dictatorship, on November 17; Independence Day; and Ohi Day, which marks the rejection of Benito Mussolini's demand for Italian occupation during World War II.
Recommended Reading :
* Spanish Government fails o end the 'Puente'