Former king's Ferraris to be auctioned off in Spain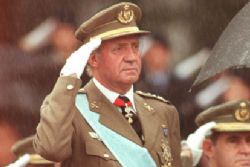 Two Ferraris that were a gift to Spain's King Juan Carlos and which he donated to the state before abdicating will be auctioned off by the treasury ministry, which hopes to fetch around EU700,000 from their sale.
The sleek four-seaters - both Ferrari FF models, one in black and one in silver-grey - went on show on Monday at a government showroom in central Madrid, where official cars no longer in use are sometimes sold off.
Juan Carlos, once one of Europe's most popular monarchs, who helped smooth Spain's transition to democracy in the 1970s, abdicated in favour of his son Felipe in June 2014.
His popularity plummeted in 2012 when news of an elephant-hunting safari gave a glimpse of a high-flying lifestyle while ordinary Spaniards endured economic crisis.
King Felipe VI, 47, has restored some of the monarchy's reputation pursuing a more austere style and taking a tough stance on some of the scandals that have damaged the royal family. He has also tightened rules on gifts, preventing royals accepting expensive presents.
The two Ferraris were given to Juan Carlos in 2011 by the prime minister of the United Arab Emirates, El Pais newspaper reported, adding they were unused and that the King had already back then decided to donate them to the state.
The auction starting prices for the cars are EU350,000 for one and EU345,000 for the other, according to a notice published by the Treasury Ministry, which gave prospective bidders until Oct. 30 to make offers.
Recommended Reading :
* Spain's King Felipe lowers his salary
* King of Spain revokes title of Duchess of Palma