Guardia Civil divers and sniffer dogs search river for missing Scot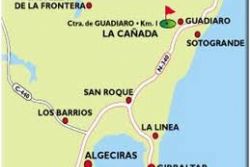 Police divers and officers with sniffer dogs have been searching a river in Spain for a missing expatriate Scot.
Lisa Brown, 32, originally from Dumbarton, has been missing for several days from her home in the southern Spanish town of Guadiaro.
Other officers with dogs combed adjoining woods and farmland in a major operation which also involved a police helicopter.
A Civil Guard spokesman stressed the searches were 'standard protocol.'
"The river was an obvious place to look because it's near to the missing woman's home."
Police are still attempting to trace Ms Brown's British boyfriend, who is thought to have left Spain.
Officers would not confirm whether he was a suspect or a potential witness.
A source said: "Police are keen to speak to him and haven't yet been able to reach him.
"He's a young British man who was living in Spain. All avenues are being explored at the moment and they want to talk to him to see if he has any information which can lead them to Lisa."
A police spokesman said: "The investigation remains open. All avenues are being explored."
Recommended Reading :
* Scots Mum missing in Spain for 2 weeks