Sánchez suffers harsh attacks from PP, Podemos during investiture debate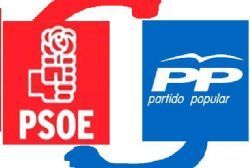 Tuesday saw the first debate of this week's investiture session in Congress, at which Socialist Party (PSOE) leader Pedro Sánchez, who has been invited by Spain's King Felipe to try to form a government, appealed to his rival political parties to support his bid to become prime minister. His 90-minute speech was the only one heard during the afternoon session, but on Wednesday morning it was the turn of the leaders of other parties to offer their responses.
Acting PM Mariano Rajoy, whose Popular Party won most votes at the inconclusive December 20 general election, but fell short of a majority, was the first to take the stand in Congress, followed by Pablo Iglesias, the head of the anti-austerity left-wing group Podemos.
Both politicians expressed their huge distance from the stance of Sánchez, who last week reached a deal with center-right group Ciudadanos to try to form a minority government. Rajoy ridiculed his opponent and his calls for a "government of change," while Iglesias called Sánchez "miserable" at one point. They both did their best to discredit their opponent throughout.
Meanwhile, the leader of Ciudadanos, Albert Rivera, appealed for dialogue, cross-party pacts and accord. He accused the PP and Podemos of trying to derail "an agreement that represents nine million [Spanish voters]."
The PP leader described the bid for power by the Socialists, who reaped one of their worst election results ever at the December polls, as a "farce." Iglesias, meanwhile, described the prime ministerial hopeful as someone who had "surrendered to the oligarchs and the powers that be."
The debate, which will continue throughout Wednesday, is likely to see Sánchez lose the first investiture vote scheduled for later today. As things stand, he is also unlikely to win a second vote on Friday, at which he needs a simple majority to be successful. Right now he can only count on the 90 votes from the PSOE and 40 from Ciudadanos, out of a total of 350.
Recommended Reading :
* PSOE leader appeals for support ahead of investiture debate
* Podemos rejects latest offer from PSOE