Ciudadanos ready to drop PSOE if they negotiate Catalan self-rule vote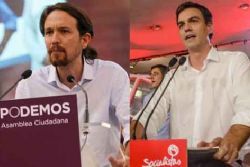 The alliance between emerging party Ciudadanos and the Socialists – the only such political agreement to emerge since Spain's inconclusive December 20 general election – could yet flounder if the latter reaches any deals with Catalan nationalists.
Socialist leader Pedro Sánchez is scheduled to meet Catalan premier Carles Puigdemont on Tuesday in what will constitute the first face-to-face encounter between Catalan nationalists and a mainstream Spanish party leader since Puigdemont took office in January.
Socialist sources say Sánchez will not ask for Puigdemont's support, but simply seek to convince him to drop plans to secede from Spain.
But just in case, Ciudadanos – which began life as Ciutadans, a Catalan party strongly opposed to regional independence – is reminding Sánchez that any leniency towards secessionist views will automatically sever the ties between their two parties.
The governing agreement recently announced by the Socialist Party and Ciudadanos expressly rejects any referendum on self-rule and defends Spanish unity.
"If Sánchez bypasses this agreement and these conditions, Ciudadanos will walk away from the table, as we already stated earlier," said party communications secretary Fernando de Páramo.
But the PSOE and Ciudadanos together still lack enough congressional presence for an overall majority, which led to the recent failure of Pedro Sánchez's bid to get voted in as prime minister by Congress. The PSOE leader now needs to find additional support elsewhere before time runs out and a new election is called.
But so far he has always said that he will not take office with help from pro-sovereignty forces.
The point of the Tuesday meeting, said Socialist sources, was to keep avenues of dialogue open after Madrid-Barcelona relations broke down in the wake of Catalan nationalism's push for a breakup with Spain.
Catalan government sources said it was the Socialist leader who requested a meeting with Puigdemont. These sources added that the condition for supporting Sánchez's investiture would be the holding of a legal referendum on self-rule.
But the Catalan Socialists (PSC) insisted that a referendum was not on the agenda.
"It is an institutional visit," said PSC spokeswoman Esther Niubó. "Dialogue means listening. We wish to see a new era open up in relations between Catalonia and the rest of Spain."
On Monday, Puigdemont made a veiled reference to his Tuesday date with Socialist leader Pedro Sánchez.
"We want to talk with everyone, from the small businessman to the large bank, and with politicians of all stripes, and tomorrow we will see another example of that," said the Catalan leader, speaking at a book presentation in Barcelona.
Recommended Reading :
* No Government, no problem fro Spain
* King decides against meeting with Spain's political Chiefs