Spain's Socialists, Podemos open coalition talks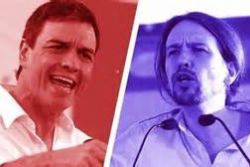 Spain's Socialist party and anti-austerity newcomer Podemos will hold talks on forming a coalition, exploring an as yet untried combination to break a deadlock that has left the country without a government since inconclusive elections in December.
With the deadline for calling new elections little more than a month away, the parties' leaders - meeting for only the second time this year - agreed on Wednesday to start negotiating a possible deal this week.
"I have seen a joint willingness to have this dialogue," Podemos' Pablo Iglesias told a news conference. "Starting this week I will roll up my sleeves and personally head Podemos' negotiating team."
Iglesias also said he was ready to withdraw from any prospective coalition government if that helped secure a deal.
A left-wing coalition, even if it also included the former communists of Izquierda Unida, would still be short of a parliamentary majority, and would need other parties to abstain or vote in its favor in a confidence vote, which may not be easy to achieve.
A series of attempted alliances over the past 100 days involving the leading four parties have failed to end the stalemate.
If there is no deal by May 2, new elections will have to be held, probably at the end of June.
While Podemos believes a left-wing coalition should and could be backed by smaller parties and regional groups, the Socialists insist liberal party Ciudadanos should be part of the equation, something Iglesias does not want.
Socialist leader Pedro Sanchez failed earlier this month to win the confidence of parliament when Podemos and the conservative ruling People's Party refused to back a government deal he had reached with Ciudadanos.
But he said he was now more optimistic that a three-way deal could be reached.
"We have a joint objective. We don't want elections (...) and we want to end the (acting) government of Mariano Rajoy," Sanchez told a news conference.
"It will be complex, it's not a done deal, but we are today closer to a government of change in Spain than to repeat elections."
Recommended Reading :
* Rajoy relents on refusal to deal with Parliament
* PSOE open to representatives from Podemos Ciudadanos