Podemos Reject Socialist Pact Elections Loom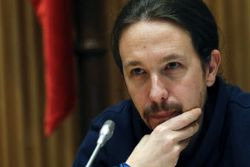 Members of Spanish anti-austerity political party Podemos (We Can) have overwhelmingly rejected a coalition pact with socialist party PSOE.
Podemos, led by Pablo Iglesias, an ex-university professor, balloted its members in a referendum on whether the party should back PSOE, along with Ciudadanos (Citizens) in an historic coalition to become the next government of Spain.
However, almost 90% rejected the proposals largely because of the alliance between PSOE and Ciudadanos. Podemos views Ciudadanos as being far right, too far right from their own leftist position.
The ongoing stalemate, the result of inconclusive elections in December 2015, has left Spain without an official government for several months and left the previous centre-right PP (Peoples Party) government in office, albeit in a caretaker capacity.
Currently, the PP, which won the most votes in the election but failed to secure a majority, have more or less been left to do as they please. They do not believe their current caretaker role in government warrants parliamentary or public scrutiny. A position which has infuriated opposition parties claiming it's unconstitutional, a matter for the constitutional court to decide. However any decision is unlikely to be made in the near future.
However, none of this has spurred the other political parties into finding enough middle ground to form a pact and oust the incumbent PP government.
But time is running out. If no government emerges by 2nd May 2016, the Spanish public will be forced back to the polling booths in a general election re-run. Another historic first for Spanish politics.
Spain's King Felipe VI is due to hold meetings with political parties next week in a last ditch attempt to break the deadlock. But many believe fresh elections are inevitable.
Ironically, the political impasse has done little to derail the economic recovery following deep double-dip recessions and appears to be steaming ahead leading many to believe it being the result of there actually being no government.
However, analysts are warning that further prolonging the political uncertainty will have profound longterm effects on the economy where the budget deficit struggles to meet tough EU and IMF demands time and time again and unemployment continues to hover around 20%.
Political polls had previously suggested that a return to the ballot box could significantly favour the PP and weaken both Podemos and PSOE by losing seats gained in the December 2015 elections. Ciudadanos had been predicted to remain roughly the same.
More recent official polls are now suggesting the situation may not change that much at all and could result in another hung parliament. A prospect which could see Spain without an officially elected government for another 6 months, effectively writing off up to 18 months of effective political leadership.