EU may fine Spain for missing budget targets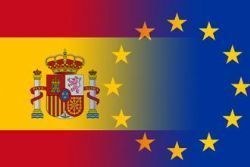 The European Commission is considering penalising Spain for missing budget deficit reduction targets but is also likely to give them more time to bring their it's gaps within EU limits, officials familiar with the issue said.
That would be unprecedented in the two decades since such rules were introduced ahead of the launch of the euro.
The Commission could recommend, however, a symbolic sanction only so that fines, which can be up to 0.2% of GDP) - or 2.16 billion euros (£1.6 billion) for Spain - would be set at zero.
"There is a chance that the Commission could recommend sanctions and at the same time recommend that they are reduced to zero percent," one official said.
Such a solution would signal the Commission's readiness to apply the rules and increase pressure through political embarrassment but avoid the economic impact on a country already struggling economically of having to pay a fine.
Under EU budget laws the Commission is in charge of policing the budgets of its 28 members to make sure they improve each year in line with recommendations set by EU finance ministers.
The rules were sharpened in 2011 to make financial sanctions for rule-breakers more automatic and harder to circumvent through political alliance-building as had happened in the past.
In the EU, governments cannot run budget gaps higher than 3% of GDP or debts higher than 60% of GDP, and must cut their structural deficit - a measure that strips off business cycle effects and one-offs - by 0.5% of GDP every year until they come close to balance or into surplus.
Spain was asked by EU finance ministers to cut its deficit to 4.2% of GDP last year, from 5.9% in 2014, but verified data last week showed it ended up with a 5.1% shortfall instead.
Spain's 2016 deficit was to be 2.8%.
Because the slippage is so big, the extension that Spain would get could be more than one year, officials said.
The Commission is to issue its recommendations on whether to fine Spain in the second half of May, but no decision has been taken yet.
Officials said some in the EU executive arm were against sanctions.
"Pressures on both sides are quite even right now," the official said.
Recommended Reading :
* Spain kept debt below 100% of GDP as economy grew in 2015
* Spain plans crackdown on regions to shrink deficit