Spain to raise 2016 growth forecasts before end of July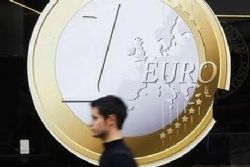 Spain's economy is expected to grow in 2016 more than the 2.7% initially expected, acting Economy Minister Luis de Guindos said on Tuesday, adding that the government would review its economic forecasts before the end of July.
De Guindos also said the economic expansion could potentially top the annual GDP growth of 3.2% registered last year if the political impasse after two inconclusive general election is broken quickly.
"The growth projections for this year are excessively prudent and I believe that in the next set of forecasts, which we need to set before the end of July, we will revise growth for 2016," de Guindos said in a radio interview.
The economy minister also said Spain would seek to attract financial service groups or European agencies looking to move from London after Britain voted to leave the EU.
"The problem for the City (of London) is that there are going to be foreign banks that lose their (European) Community passports and they could come here ... this is a very attractive country," he said.
Internationally recognised business schools, low real estate prices, good weather and solid infrastructure were all good reasons companies would consider Spain as an option, he said.
Asked about Italy's plans to negotiate a controversial plan to recapitalise its banks with public money, de Guindos said he agreed with the proposal.
"There's a problem there that needs to be resolved and considering the difficulties that we had in 2012, Spain will support Italy in this plan as well as Portugal," Guindos said.
Portugal is struggling to reinforce its lenders after a long economic downturn, including the sale of Novo Banco, the "good bank" successor to Bank Espirito Santo.
Spain was forced to request a more than EU40-Bln European bailout for its lenders in 2012 after the fallout from a property market crash and a prolonged economic slump sent unpaid loans soaring and pushed the banks close to collapse.
Recommended Reading :
* Bank of Spain predicts economic growth of 2.1% in 2018
* Almost 30% of Spaniards at risk of poverty or social exclusion