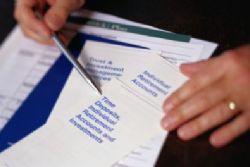 Regardless of your nationality, you are required to prove your resident or non-resident status when you wish to open a bank account in Spain.
If you are a resident, you only have to go to a bank and show the resident ID to have an account opened.
If you are a non-resident, there are two options:
1) The first option is to go to Your Local Police Station with a "Foreigners Department" with your passport (as with all legislation in Spain , always take photocopies with you and keep copies of any resulting paperwork given back to you) and ask for a "non-resident certificate". You will have to return in about 10 days to collect it
Once you have this certificate, you can go to any bank (Again with your passport) in order to have an account opened. This account will be operational from the very moment of the opening and the funds you deposit will be available to you immediately.
2) The other option is to go to a bank with your passport and ask to open an account. In this case, the bank will have you sign an authorization to carry out the necessary procedures to have your non-resident certificate. They will charge you about €15,00. The account will not be operational until they receive your certificate and the deposited funds will not be available either.
There is no minimum deposit to be able to open an account in Euros. If you want to open an account in another currency you will need to check out the minimum deposit.
Remember: Banks usually charge opening and yearly maintenance fees.
Most Banks in Larger Towns and along the coastal strips will have at least one English Speaking member of staff – but this is also a good opportunity for you to break out of any bad habits and start to speak the language.
Banks Hours are usually around 8.30am to 2.00pm, sometimes with late hours one day per week at certain parts of the year.
On-line Internet Banking is provided by nearly all Banks, with many of them providing this service in English - although it is customary for you to be required to register for this service in person at your local branch.
Click here for details of Euro AND Sterling accounts available to Spanish residents
Must Read :
Report reveals commissions charged by Banks in Spain