Aeromur retreat from Murcia's Corvera Airport ?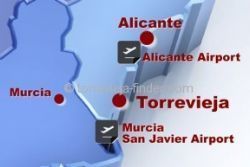 Sacyr – the majority shareholder of the former developer and concession holder of Corvera Airport (Aeromur) – has quit it's offices in Las Atalayas, Murcia.
Aeromur have launched numerous appeals and bids for compensation following the region of Murcia removing them from their contract, who cited their inability to bring the facility into operation.
Despite the appeals being largely ineffective so far, according to Sacyr the move comes in order to support the logistical process of making further legal appeals to the National Supreme Court in Madrid.
Whilst the move may suggest a retreat, a settlement with the Regional Government of Murcia is still officially unresolved, which perhaps signals a surrender by the former Concession holder ?
The removal of Aeromur's official website from the internet may also point towards the end of the Aeromur / Corvera fiasco.
The unexpected Twist ? : Sacyr have expressed their interest in tendering to work alongside AENA for the operation of Corvera Airport when the facility eventually opens.
Recommended Reading :
* Corvera Airport passenger forecast revised
* Aeromur refuses to hand back Corvera Airport keys