An Idiots Guide to Airports in Spain
The subject of Spanish airports has been written about in the form of news stories, blogs and editorial opinion ad nauseum lately, and it seems that everybody has an opinion on the matter.
There is also so much information out there, that it is difficult for an outsider - with hardly any prior knowledge of the issue - to get a good understanding of the situation without being forced into reading pages and pages of boring waffle.
I'm going try and make an analysis as concisely as possible :
The Situation : The Spanish Airports Authority (AENA) is a publically operated body, responsible to the Ministry of Development, with a network of 49 airports throughout mainland Spain, the Islands, and the territories in North Africa.
There are also a number of Private airports, including Castellon; Corvera and Ciudad Real – all of which are controversial in their own right.
Do the maths : Can it really be that much of a coincidence that there are / is proposed to be 52 airports in Spain :? - Almost the exact same number of Provinces there are in Spain.
The fractured and devolved system of local, provincial, regional and central governments in Spain all encourages a mindset that refuses to allows any one province not to have an airport when all of their neighbours do.
Do these provinces all need an airport ? Of course, many of them do – it would be silly to argue that Alicante airport, who saw almost 10 Million arrivals in 2011, didn't need an airport, or that or that the Cities of Barcelona and Madrid could 'share', but in other cases, such airports are simply not required.
Why ? : A number of reasons : Mainly that they are often built so close to other neighbouring airports that it is simply no point in most airlines operating routes to both airports (For example Cordoba is situated just 112km from San Pablo airport in Sevilla, 116km from Granada-Jaen and 136km from Malaga).
What about the cost ? : Aside from the tens of millions involved in the construction and operation of these airports, many of them are heavily subsidised by the regional governments. This is in the form of the regional tourist authorities paying airlines a fixed price for every passenger they bring to the area. It was recently reported how Ryanair alone have been paid 250 Million Euros over the last 5 years in this way.
Some airports pay more than others, for the simple reason that they have to. Madrid, Barcelona and Alicante has no problem attracting visitors (and as such pays next to nothing), whilst 'unpopular' places like Huesca, Vigo and Salamanca can pay as much as 80 Euros per person.
Why is this a problem ? : Simply put, there are still not enough people visiting to make this a worthwhile venture for the airlines and as such many are cutting routes to these so-called "Ghost" or "White Elephant" airports. And once the airlines have pulled out, these airports must still be operated and maintained in accordance with aviation regulations – thereby spending even more money, but gaining nothing.
How much has been spent on these airports ? : As far as the 49 Public airports are concerned, just 20 of them are actually operating on a profit. It was also revealed how the network's 12 smallest airports by passenger numbers have swallowed up 413 Million euros in Investments over the past decade.
Far from being profitable, the passenger number in the bottom 12 for the month of January ranged for 160 passengers per day (Leon) to zero (Sabadell).
What about the Private airports ? : Ciudad Real airport opened and closed very soon after, due to being unable to attract any airlines and perceived as being located too close to Madrid, where cheaper and more convenient flights were already established. Castellon airport, opened over 1 year ago, but has yet to attract one single flight. Corvera airport (Murcia), built just 30km away from San Javier airport, which only recently spent 60 Million on a runway which may soon close.
Who cares, private money anyway ...: Yes and no. The majority investors in these private companies are in most cases the regional governments – in a round about way, still the tax payer's money !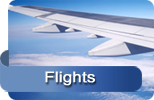 Tumbit Flights
Regardless of where you live or your reasons for visiting Spain, the whole process of searching for the cheapest and most convenient flights for you and your family can be time consuming. That's why here at Tumbit we have partnered with Cheapflights, who search through hundreds of available flights every day to find the best deals for you.