Costa Blanca Fire Thousands Evacuated in Javea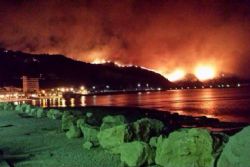 Huge wildfires in the Costa Blanca province of Alicante have destroyed several properties and forced the evacuation of thousands of people in and around Javea.
A series of individual fires, which began Sunday afternoon, converged into a raging inferno largely fuelled by strong winds and an unusually hot and dry start to September.
Residents and visitors in the Benitatxell, Tossalet and Cansalades areas are reported to have been evacuated to a nearby sports centre and school sports hall, many of which are British expats or tourists. Properties evacuated include several urbanisations, villas and a hotel.
Many roads into Javea are closed and schools due to start today after the summer holidays, remain closed.
Photos and videos have appeared all over social media, illustrating the sheer scale of the inferno threatening to destroy more properties in its path. An initial fire began around 16:00 Sunday afternoon in the Benitatxell urbanisation of Cumbre del Sol which was reported to have been contained, however fires flared up again in different locations.
Emergency services are treating the fires as suspicious and believe them to be the work of arsonists.
Several helicopters and sea planes, as well as the military, have been drafted in to help fight the fire and assist with evacuations. Although, aerial support was called off by 21:00 as night fell.
TWO years ago, Javea was hit by another raging inferno destroying more than 400 hectares of land and displacing around 1,400 people. A massive emergency response swung into action managing to bring the fire under control relatively quickly. No properties were destroyed on that occasion.
Javea is a popular destination for tourists during the summer months and several visitors own holiday homes in the area. Relatively quiet for most of the year, t
hhe town swells in numbers by more than 200% during the holiday season.
Early reports this morning suggest fire fighters were winning the battle to contain the blaze and should gain the upper hand as aerial support resumes at day break.