Catalans protest Spain's legal challenges to secession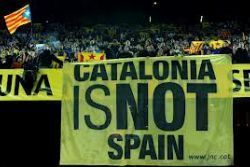 Thousands of Catalan separatists have gathered in Barcelona to protest a series of legal challenges made by Spain's government against pro-independence Catalan politicians.
Several of Catalonia's lawmakers are facing court cases sought by the Spanish government for having staged a secession referendum in 2014 in disobedience of a court order and for other regional laws designed to prepare a path toward secession.
Those politicians include Catalonia's former regional president, Artur Mas, and the current speaker of the regional parliament, Carme Forcadell, who both attended Sunday's protest.
Separatist sentiment has been on the rise in recent years in the wealthy northeastern region that speaks Catalan along with Spanish.
Polls consistently show that Catalonia's 7.5 million residents are about equally divided on breaking century-old ties with the rest of Spain.
Recommended Reading :
* Catalonia developing ID cards for residents in event of separation from Spain
* Spain seeks criminal charges against Catalan parliament