Britons in Spain fret over health care, may come home after Brexit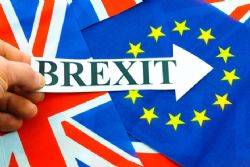 British pensioner Judy Swatridge's spine is held together by titanium pins and plates since breaking her back over 10 years ago. She needs regular check-ups and takes prescription drugs for illnesses including diabetes and high blood pressure.
The 75-year-old is one of tens of thousands of British retirees in Spain worried that they might lose their free access to Spanish health care, currently assured by European Union law, as a result of Britain's exit from the bloc.
"I'd have to go back to the UK, I'd have no choice," Swatridge, who sold her house in Britain to move to Spain 13 years ago, said after attending a meeting of pensioners with similar concerns in the southern coastal town of Mijas.
"I've looked into it," she added.
Britons retiring to Spain are attracted not only by a warm climate and Mediterranean lifestyle but also by free access to a well-regarded health system, with London ultimately picking up the bill by refunding Madrid for their health costs.
It is unclear if that EU-mandated arrangement will continue as the issue is likely to become tangled in divorce negotiations set to begin by March. Pensioners meanwhile worry they may have to return to Britain's stretched health system, another example of unintended Brexit consequences rippling across Europe.
A return of ailing pensioners to Britain would threaten to further strain its National Health Service (NHS) where patients can wait for hours in hospital corridors before they are treated - not an outcome envisaged by Brexit campaigners.
The Brexit campaign had argued the NHS would benefit from a break with the EU, saying funds no longer spent abroad on EU projects could be freed up to boost health funding at home.
Spain is the most popular European retirement destination for Britons, home to around 300,000. Around a third of them are aged over 65. Together, Spain and Portugal account for almost a quarter of all Britons living in Europe, U.N. data shows.
In total, more than 1 million Britons live in Europe, and over 3 million EU citizens in Britain - potential bargaining chips in the upcoming divorce between London and Brussels.
British PM Theresa May has pushed for an "early resolution" to the anxiety facing foreign residents. But EU leaders have ruled out talks on mutual residence rights until she triggers the exit process under Article 50 of the EU treaty.
WHO WILL FOOT THE BILL ?
Britain is by far the biggest user of Spain's state-funded, universal health care system amongst foreign nationals, social security figures show, running up a bill over three times greater than the next biggest users, the French, last year.
Britons cost Spain EU285 Mln in health care last year, including tourists and pensioners and accounting for nearly half of Spain's total spend on foreign EU nationals.
This dwarves the cost of Spaniards' medical care in Britain of less than 150,000 euros last year - or just 0.05% of Britons' cost to Spain, according to Spanish social security data. Spaniards living in Britain tend to be of working age.
Under rules governed by European law, Spain and Britain compensate each other for their citizens' medical care bills. This more or less covers costs on an annual basis, Spanish social security figures from the last 9 years show.
A British government spokeswoman said nothing had yet been decided on the future of reciprocal healthcare arrangements, adding that Britain remained a full EU member with all the accompanying rights until exit negotiations were concluded.
"The government is considering the various options that may be available, and it would be wrong to set out unilateral positions in advance of the negotiating process," she said.
'THERESA MAY SHOULD COME CLEAN'
Spain will seek an agreement with Britain for it to continue reimbursing Madrid for the healthcare of Britons, former Foreign Minister Jose Manuel Garcia-Margallo of the ruling People's Party said in September.
Without such an agreement, pensioners have no guarantee that Spain will continue to give them free access to health care.
Some could seek Spanish citizenship to secure access to the health system, transferring the cost of their care to Spain, but only those with a Spanish spouse or parents, or those who have lived in Spain for at least 10 years, would be eligible.
Even those who qualified for Spanish citizenship would need to renounce their UK citizenship, a tough decision for many reasons. For example, their estates would become subject to Spain's more prescriptive inheritance laws.
Under Spanish law, foreigners resident in Spain for five years or more could be eligible for access to state health care regardless of current EU arrangements, but that too is not certain to be a safety net for ailing pensioners post-Brexit.
Lawyers advising Britons in Spain say their status has yet to be determined by exit negotiations, so it is unclear if that provision would still apply to them after Britain's exit.
Spanish municipalities where retirees spend their cash in shops, restaurants and golf courses are also eager for a deal to conserve Britons' access to free health care.
British state pensions cashed in Spain totalled 583 million pounds last year, the highest value globally outside of Britain, government figures show.
The mayor of Mijas, where more than one in 10 residents are British, says he is lobbying the EU parliament and Spanish government to preserve Britons' free access to health.
"These people choose Spain because of the quality of life and this service is an essential consideration for them when they decide where to live," said mayor Juan Carlos Maldonado.
Further down the coast from Mijas, at a bar on the seafront in the neighbouring town of Fuengirola, pensioners worry about the future as they play bingo and take part in a raffle organised by a charity with prizes of wine and chocolates.
"How long is the uncertainty going to last?" says Jean Baker from Essex who has lived in Spain for 13 years and uses the health service for check ups on her heart and blood pressure.
"Theresa May should come clean and tell us - she's making it too hard for people to know what they're going to do."
Recommended Reading :
* Brexit protesters tell May 'get on with EU divorce'
* Brexit 'Would make Expat Pensioners £50,000 poorer