The EHIC system has received much bad press of late, largely due to some changes in certain EU regulations which has effected the application and issue process – mainly effecting UK pensioners, or those who have taken early retirement and are living in Spain.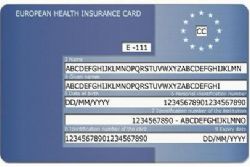 What is it ?
The EHIC ( European Health Insurance Card ) is basically the replacement for the old E111 for UK residents. E111's have not been valid for almost 5 years. The EHIC can be used to cover any medical treatment provided by the state that you may require due to accident or illness during your time in Spain*.
* EHIC cards are usually valid for 5 years.
What is covered ?
The EHIC may not cover all of the treatment that you could normally expect within the UK and as such you might need to make a contribution towards the care you receive.
The card may also be used to receive treatment for existing illnesses and diseases, but there are certain conditions, so if this applies to you please check with your healthcare provider before you travel. Maternity care is also covered by the EHIC whilst you are away, but if you are travelling to a country specifically to have a baby then you will need to complete an E112 form. You should speak to your healthcare provider for more information about this before you travel.
The EHIC may cover not all your required medical costs, and as such it is advisable to arrange travel insurance to ensure that you are fully covered for all circumstances that may arise. Importantly, you are NOT covered with EHIC if you are travelling abroad specifically to receive medical care.
The EHIC will NOT provide repatriation back to the UK in the event of serious illness.
Who is eligible ?
If you are ordinarily resident within the UK then you are eligible to be issued with an EHIC by the UK. If you are NOT a UK national, there could be certain restrictions in place with regards to what treatment you may be entitled to, and as such you should check with your own country's embassy first of all.
NOTE : If you are a Spanish resident, you should click HERE for further details.
If you are coming to Spain to work for a UK company or are self-employed within the UK , you are entitled to a UK-issued EHIC and this includes any dependants who may be going with you for up to one year. The qualifying requirement here is that HM Revenue and Customs confirm that you are continuing to pay compulsory UK National Insurance contributions. If your employment / self-employment is going to last longer than 12 months then you may be able to continue paying your compulsory UK National Insurance contributions and use your EHIC, but you should contact your nearest HM Revenue & Customs office for more specific advise about how to arrange this.
The EHIC is NOT valid for those moving abroad to live or those going abroad to work for a foreign employer.
What do I need to do to get one ?
To apply for an EHIC you will need to provide your name, date of birth and NHS or National Insurance number. In Scotland the NHS number is known as the Community Health Index or CHI number and in Northern Ireland it is known as the Health and Care number.
You can also apply for an EHIC for your spouse, partner and any children up to the age of 16 (or 19 if they are in full-time education) in your care at the same time as applying for your own card. You must be over 16 to apply as a main applicant.
If you lose or have your EHIC stolen within the UK then you will need to apply for a replacement. If it is lost or stolen abroad then you will need to apply for a replacement upon your return to the UK. If you require healthcare whilst you are abroad and have lost or had your EHIC stolen, then you will need to contact the Department for Work and Pensions in the UK and obtain an EHIC Provisional Replacement Certificate.
Renewal of your EHIC should be done 6 months before the expiry of the old one.
Where do I apply ?
Applying for an EHIC online remains the quickest and easiest method of application, and it is worth trying this first of all by clicking through to the Department of Health website, however, there are certain cases where postal applications can only be submitted. These are :
1.) If you are a Student in Spain
2.) If you are working in Spain for a UK Employer or registered UK self-employed.
3.) If you are receiving any state pensions or benefits from the UK
4.) If you are dependant on a UK National
If you are planning to remain in Spain on a more permanent basis, you may wish to click here to read How to apply for free state healthcare in Spain..
** 10.10.2014 : An informative Youtube guide on the subject issued jointly by the Dept of Health in the UK and the British Embassy in Madrid can be seen by Clicking the link HERE