Spain economy seen growing at least 0.7 quarter-on-quarter in Q1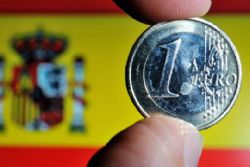 Spain's economy grew by at least 0.7% on a quarterly basis in the first quarter, Economy Minister Luis de Guindos said on Thursday.
"The deceleration is not evident in the first quarter of this year ... everything points to very similar growth to last year, of at least 0.7%" De Guindos said.
Spanish Gross Domestic Product (GDP) grew 0.7% quarter on quarter in the last three months of 2016.
Recommended Reading :
* OECD Praises Spanish recovery but issues alert over rising poverty
* Spain's finance ministry forecasts record tax collection in 2017