Spanish police raid Catalan government telecommunications centre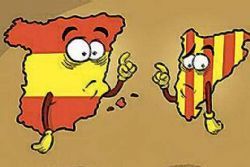 Spanish police raided the Catalan government's telecommunications and information technology centre on Saturday, La Vanguardia newspaper reported, citing RAC1 radio station.
Police and Spain's Interior Ministry could not confirm the raid.
A judge on Friday ordered Google to remove an application that gave information about the banned Catalan referendum on independence from Spain planned for Sunday.
Recommended Reading :
* Catalonia urges EU intervention in independence vote
* Bank of Spain warns Catalan secession push could put growth forecast at risk