Spain's apology to Catalonia soothes financial market jitters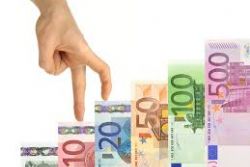 An apology from Spain for a violent police crackdown on Catalonia's independence referendum settled a sell-off in Spanish financial assets on Friday, although global bond yields were broadly higher after a mixed U.S. jobs report.
The conciliatory gesture from Spain's representative in Catalonia, which accounts for a fifth of the national economy, came just as the region's secessionist leader appeared to inch away from a plan to declare independence as early as Monday.
Spain's 10-year bond yield had risen sharply earlier on Friday after Catalonia's head of foreign affairs said the region's parliament planned to meet on Monday in defiance of a ruling by the country's main legislative court. Later in the day it was back trading in line with European peers.
But the country's stocks and bonds remain on track for their worst week in months as yields rose globally on Friday after U.S. unemployment and wage growth data showed the resilience of the world's largest economy in the face of a wave of hurricanes.
Analysts said the data increases the chances that the Federal Reserve will hike rates again later this year.
"Today's U.S. employment report confirms that Janet Yellen's likely penultimate FOMC meeting as Chair in December will mark the third Fed rate hike this year," said David Riley, head of credit strategy at BlueBay Asset Management.
"If falling unemployment is at last fuelling meaningful wage inflation - and it is important to acknowledge that it is the first notable upward wage surprise for several months – market expectations of the path of Fed rates for 2018 will also have to move higher."
U.S. two-year yields hit their highest level in almost 9 years after the data, while German 10-year yields - the euro zone's benchmark - rose 4 basis points to nudge to a one-week high, just over 0.50%.
All other euro zone 10-year yields were 3-4 bps higher on the day, including Spain's which had earlier been as much as 7 bps higher.
Spain's yields remain up 11 bps on the week, marking their worst period in 3 months.
Madrid's main stock index was down 0.3%, recovering some ground from earlier in the session, but still on track for its worst week in nearly 2 months.
Spain's government is expected to issue a decree on Friday making it easier for firms to transfer their legal base out of Catalonia, which could deal a blow to the region's finances as it considers declaring independence.
The gap between Catalonia's own bond maturing in February 2020 and the Spanish equivalent hit its widest level in over a year on Friday at 348 bps.
Recommended Reading :
* Euro falls to one-month low as political worries heighten
* Eurozone v Britain : Strong and stable / weak and wobbly