Catalan separatists to lose majority in tight election - poll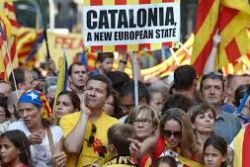 Catalonia's independence movement could suffer a serious setback in elections this month, according to a poll published on Sunday, which suggests separatist parties will narrowly fail to secure a majority in the regional parliament.
The 3 parties which supported Catalonia's frustrated push to split from Spain in October are seen as returning a total of 66 or 67 seats in the Dec. 21 election, just shy of the 68 seats they would need to control the regional parliament, according to the poll in Spanish newspaper La Vanguardia.
Unionist parties combined are also seen as falling short of an absolute majority, the poll finds, opening the door to a possible hung parliament with CatComu-Podem, the Catalan arm of the anti-austerity Podemos party, as a potential kingmaker.
Market friendly unionist party Ciudadanos and two pro-independence parties, ERC and Junts per Catalunya, the party of former Catalan leader Carles Puigdemont, are in a dead heat to be the largest parliamentary force, according to the poll based on interviews between Dec. 4 and Dec. 7.
Turnout for the election, which was forced by the central government in an effort to break the political crisis that seized the region in recent months, is predicted to reach a record 82%.
Recommended Reading :
* Spain declares disinformation campaigns as threat to national security
* Constitutional court annuls Catalan independence declaration