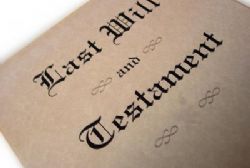 You would be surprised how many people this issue relates to. Although there is no requirement for anybody to make a Spanish Will, by having one you will ensure a cost effective means of simplifying the handling of your affairs once you do pass away. There are many ex-pats who intend to rely upon their English Will exclusively to deal with their Estate in Spain. Unfortunately if you do not have a Spanish Will no action can even begin in Spain until the probate of your English estate has been finalised. In many cases this can take a very long time – regardless of whether your English Will or affairs are complicated or straightforward. You then need to consider the expense and hassle of preparing an official translation of the English Will into Spanish , which together with the overall cost of the procedure itself , will cost significantly more than preparing a Spanish Will in the first place.
An English person prepares his or her SPANISH Will in accordance with ENGLISH law. This means that you can make exactly the same provisions in both of your wills – it is essentially a duplication. English law also states that marriage revokes a Will unless specified otherwise so the advice to anyone who has married since making their Will is to chat to lawyer to clarify the situation.
Another matter to consider is inheritance tax. In many cases the Spanish authorities impose tax penalties if Inheritance Tax issues are not resolved quickly. The beneficiaries of an Estate are given 6 months to pay any taxes due on the deceased's SPANISH estate following the date of death, after which a surcharge will be levied and interest will start to be applied. It is rare for the English probate to be dealt with in sufficient time to meet this 6 Months point and as such it is an almost certainty that this will need to be thought about. Equally so in some cases you may hear about Spanish Wills which cover an Estate in other Countries. This too is problematic outside Spain, for example an English bank, will not readily accept a Spanish Will and may request an English Grant of probate. As in Spain ,obtaining an English Grant with a Spanish Will is just as difficult as the reverse and should be avoided if at all possible.
As with all legal & financial issues, it is strongly recommended that you seek the appropriate professional advise as soon as your position in Spain becomes clear. It can save time,money ,stress and inconvenience and only then can you really claim to have left your beneficiaries with a simple way to carry out your last wishes.