Economist singles out Murcia as being 'of Economic Interest'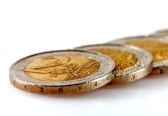 The Dean of the College of Economists, José María Moreno, has given an interview, where he has spoken in depth about the economic future of the country, and how he expects that signs of any economic recovery will not be seen until 2012 or early 2013.
He went on speak about a number of regional projects currently underway in the country, and picked out Murcia's new Corvera International Airport and the Paramount Pictures Theme Park projects to be of significant interest.
Referring to the airport at Corvera, he mentioned how the project can serve as a "salutary lesson" for the rest of the country.
With regards to the Paramount theme park, he said "although we all have doubts about the problems of other theme parks, it seems to have some components that can be distinguished and an attractive and incentive for the tourism industry and growth for the region. "
Fitch's credit ratings agency has cut Murcia's rating from 'AA-' to 'A', with a negative outlook.
The region of Murcia accumulated the sixth lowest levels of debt between April and June, according to the Bank of Spain, which is relatively good news compared to other communities, "but that does not mean that we are meeting the deficit targets," he commented, "We will have to see how it evolves."