El Hierro Volcanolgists report new island may be formed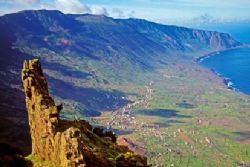 Further to this weekends continued Volcanic eruptions off the southth-weatern coast of the island of El Hierro, and meetings held on Sunday afternoon by the PEVOLCA committee, scientists have ressumed their analysis of the activity.
The Oceanographic research ship "Profesor Ignacio Lozano" has left port early this morning to monitor the eruption area, in particular investigating the numerous fish killed in vacinity of the 'stain' and collecting gas and pummice samples brought to the surface.
Whilst many residents of the evacuated village of la restinga have slowly begun to return to their properties, many have chosen to remain away from home due to fears of further volcanic activity. The authorities have not ruled out that a further evacuation may be necessary at just 7 or 8 hours notice.
Volcanologists from the CSIC (Consejo Superior de Investigaciones Científicas) have also concluded that if the activity continues for a further 2 weeks then the magma production coul result in a new island being formed just 2km off the coast of la Restinga. form a new small island 2 km out of the present El Hierro coast if the eruption continues like it does today.
Research tems have ruled out the possibility that any such 'island' would be connected to El Hierro.
Read further news stories about the El Hierro Volcano by clicking the link HERE .