Murcia Hoteliers call on Ministry of Tourism to promote the region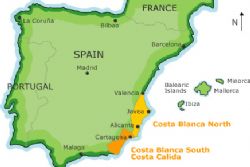 The Association of Hotels and Tourist Accommodation(HOSTETUR) for the Costa Calida has called for tourism in the region to be promoted in emerging markets such as Russia, Poland and other Eastern Europe countries to try to increase the appeal of the region.
Currently international visitors to the Costa Calida represent just 13% of all visitors at present, the number of international visitors, whereas the association is aiming to acheive a figure closer to 30%.
Visitor numbers to the area have been falling for the last four years, and not even the rise of foreign tourism in 2011 for the country as a whole has had the desired impact in the Region of Murcia, because of its 'low appeal' in the tourism industry.
After considering tourist industry data from 2011 to date, the business association of hotels in the Costa Calida has concerns over stagnation and low profitability and has therefore requests that Ministry of Tourism increased its efforts in promoting the regions to new markets.
The association also cite the imminent opening of the new international airport at Corvera as a reason for promoting the area. The airport will need to generate sufficient traffic to justify remaining operational until the Paramount theme parks opens it's foors in three years time.