Airline Bank and Credit Card Charges
A couple of weeks ago I received the following email from Lydia. She lives in Spain whilst her daughter lives in Nottinghamshire :
" David, thank you very much for the help that your Blog has given me but you have asked for feedback so here goes....
My daughter wants to visit me in October but told she was confused about bank charges added to the cost of flights by various airlines. I think, from asking around that many are in this same situation.
Could you do something on the Blog on this matter ?
Best wishes, Lydiaí
I am delighted to help, if I can. If you have feedback or comments, please add them to the comments section, below or contact m by clicking the link Here
They donít make it easy for infrequent travellers but I think Iíve come up with something for readers which your family, friends and neighbours will find helpful too.
Iíll set out the seven main budget airlines operating between Spain and UK, but where ever you fly the charges are the same. To avoid confusion and exchange rate differences these are the sterling charges as of September 6th 2011.
BMI Baby
There are three levels of charge with BMI Baby but these are set out clearly and not difficult to follow :
- Visa Electron is free
- Debit cards are £6 per person
- Credit cards are £9 per person
However, please remember that the cost is per person, so a family of 4 using a credit card booking will pay £36 booking fee.
Easyjet
Easyjet have three distinct levels of charge and you may need your calculator :
- Visa Electron is free
- Debit card charge is 2.5% with a minimum of £4.95. This is the same as Thomson Airways (see below)
- Credit cards are charged at the same rate as debit cards plus an extra £8 transaction fee.
Flybe
Flybe booking fee prices changed on the 26/04/2012 and are clearly set out but please remember that they are per person :
- Visa Electron card is free
- Debit card is free
- Credit card charge amounts to £10 per booking (regardless of party size).
Jet2.com
Jet2, have three levels of charge but I found the credit card fee difficult to understand :
- Visa Electron card is free of charge
- Debit card charge of 3.5% showing as a transaction fee and subject to a minimum of £4.99
- If you use a credit card you will still get the transaction charge, as per the debit card plus a credit card charge of an additional 3.5%
Monarch
Visa Electron cards and Debit cards are free of booking fees when travelling with Monarch.
The alternatives are £5 for using Paypal and £10 for using any other credit card. The cost is added per booking not per passenger.
Ryanair
The always controversial Ryanair are easy to understand but expensive. The costs I will mention below are per passenger. There is however one way to get no booking fee - even with Ryanair. That is through a Pre-paid Mastercard. Most issuers of these cards donít do a credit check as you need to provide the spending limit yourself from another account.
This is not a recommendation but I have a Caxton Fx Currency Card which is a Pre-paid Mastercard. It is worth researching which one suits you.
All other forms of payment, with Ryanair, attract a charge of £12 per passenger or £48 for a familyof 4.
EDIT : Ryanair has announced that as from 1st November 2011 the holders of Pre-Paid Mastercards will no longer be able to book free. They will need to pay £6 per journey or £12 return PER PASSENGER. That's £48 for a family of four.
There is only one way around this charge - get a Ryanair 'Cash Passport', which is a NEW pre-paid Mastercard! Seems like Ryanair is saying 'Gotcha'
Thomson Airways
Visa Electron cards are free with Thomson. Booking fees by any other method are charged at a rate of 2.5% of the total cost with a minimum of £4.95.
So if the total cost of the booking is £100 the booking fee is £4.95. If the total is £200 the fee is £5.
Cover all bases !
If you are a frequent flyer you may want to ensure that you have all bases covered! I found from my own experience that I can always get no booking fees or transaction charges with the following :
- I got a visa electron card from my Spanish bank
- I have a debit card with my UK bank
- I applied for a Pre-paid Mastercard having made a comparisons using the internet.
For those living in Spain these steps may be comparatively easy. UK family and friends may find it difficult to get a Visa Electron card.
I hope that you found this helpful. Would you please help me ?
Please send this to anyone you know who uses budget airlines Ė they may also find My Blog - Financial Pages in Spain helpful in other ways too...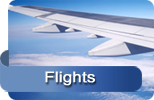 Tumbit Flights
Regardless of where you live or your reasons for visiting Spain, the whole process of searching for the cheapest and most convenient flights for you and your family can be time consuming. That's why here at Tumbit we have partnered with Cheapflights, who search through hundreds of available flights every day to find the best deals for you.
>> GET a FREE Travel Insurance quote NOW <<