EU may fine Spain if unemployment goes unaddressed
Spain may be handed down a number of financial penalties from the EU if it does not take measures to lower its high rates of unemployment.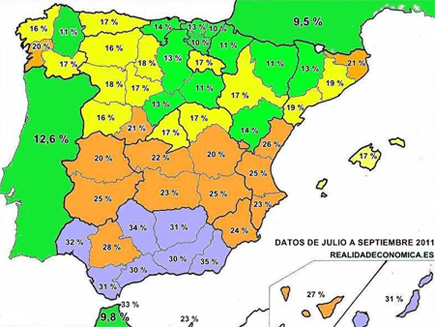 These fines could be as much as 0.1% of Spain's GDP - 1 Billion Euros - according to the EU's economic strategy, as agreed in March 2010.
With a rate of unemployment currently standing at more than 21%, this is now the highest rate in the Eurozone, a rate which is more than double the 10.2% rate of most other European Countries.
In accordance with the terms of the European Union's 2020 strategy, the development of the economies of all member states is being monitored to reach the goal of becoming smart, sustainable and inclusive.
This development is being assessed over several areas, namely on the levels of unemployment and public deficit.
Current statistics reveal a widening North-South divide as far as unemployment by Province is concerned. ┴vila (Castile and Leˇn) and Guip˙zcoa (Pais Vasco) currently have the lowest rate of unemployment in Spain at 10%, whilst Almeria (Andalusia) has the highest with 35%.
At the end of the third quarter of 2011 the number of unemployed stood at 4.98 Million people.