AENA Implements automated baggage handling at Fuerteventura airport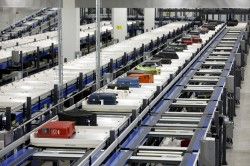 Yesterday AENA brought the first phase of it´s automated baggage handling system (SATE) into operation at El Matorral airport on the Canary Island of Fuerteventura.
The new system will be able to manage the demand to handle 6,000 pieces of luggage at any one time, and represents an investment of 32.7 million euros.
Phase I of the project currently operates on 15 of the total 65 desks - Phase II, scheduled to be operational in March of next year, will extend the service to the remaining desks.
The new system carries the checked baggage from the desk to the holding warehouse via some 7 miles of conveyor belts, where it is identified, classified and labeled with the appropriate barcode. There is also the provision for 2 separate manual inspection and handling stations in the process in the event of any problem occurring.
The Directorate of Airports Transition have already implemented three tests to ensure the operational efficiency of the process.