Outsourcing of Air Traffic Control Towers to save AENA 16 Mln Euros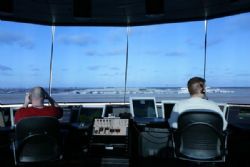 During the first six months of 2012 13 air traffic control towers : Alicante, Valencia, Ibiza, Sabadell, Sevilla, Jerez, Melilla, Cuatro Vientos, Vigo, La Coruna, Lanzarote, Fuerteventura and La Palma, will be imanaged by a private company, independant of AENA
The successful company to be awarded the contract, Saerco Ferrovial, has taken over responsibilty for 200 air traffic controllers employed at the 13 towers.
In order to effect the smooth takeover of operations, the Ministry of Development has suggested that employees now have three options: to remain in the employ of AENA, but on the payroll of the new managers (which would probably result in a reduction of salary), to be employed directlly by Saerco, or to leave their positions.
The granting of these thirteen control tower licences will have a duration of 5 years, and will allow AENA to make significant cost savings. Last year the mainatencance and operation of the 13 towers cost 34 Million Euros in public money, whereas the bill to AENA for awarding the contrqct to Saerco will cost just 18.1 million Euros - representing a saving of almost 50%.