Aeromur appoint new Director at Corvera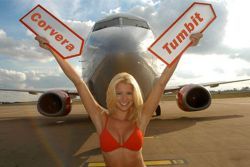 Ivan Tejada has been named as the new Director at Corvera International Airport in Murcia.
Tejada was previously the Director of Valencia airport and, more recently, the Operational Director for Castellon private airport.
Tejada, who is an aeronautical engineer by trade, replaces Mariano Menor, who left as the airport's Director over last summer, over differences with SACYR, the construction company that holds 60% shares of the concessionaire of Corvera airport - Aeromur.
Mariano Menor's replacement had been delayed a number of months due to the SACYR's ayyention being diverted to the more pressing issues of the departure of the Group's Presidents, Murcia Luis del Rivero, and ongoing negotiations opened between AENA and Aeromur with regards to the closure of San Javier airport.
The agreement signed last weel between the Minister of Public Works, Antonio Sevilla, and Secretary of State for Transport, Isaiah Táboas, has cleared the way for the Aeromur and AENA to begin the transfer of civilian flights and employees of San Javier to Corvera, which means that the former airport will only be used for military aircraft and for students of the Academia General del Aire.
Tejada was appointed Director of Valencia's Manises airport in August 2001, where he remained until 2008. In September 2009 he joined Concesiones Aeroportuarias, the promotors of Castellon airport, which was completed last Spring, but is as yet waiting to welcome it's first operational commercial flight.
Tejada orchestrated the years of growth seen at Valencia airport, but AENA relieved him from his position following the expansion project for the terminal building.