The Struggle of Galicia's Airports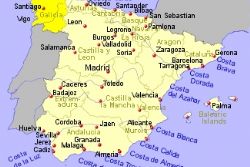 Recent statistics issued by AENA have shown that only one of the Regional airports has been able to benefit from Galicia's commitment to work towards increasing passenger numbers : Lavacolla airport at Santiago de Compostela.
Whilst the total number of passenger arrivals in Galicia has remained constant over the last 5 years, Lavacolla has increasd by around 400'000 users, whereas Peinador airport (Vigo) has lost around 250'000 and Alvedro (La Coruña) around 150'000.
What the Region and the induvidual airports have been unable to act upon, is to encourage users of Oporto airport in Portugal to fly from Peinador airport instead, and for passengers to make use of Peinador airport, instead of being drawn to Lavacolla.
By the end of 2011 passenger numbers for all Galician airports is expected to be 300'000 below those seen for 2007 : Lavacolla increasing by 409,000, but being offset by a loss of 427,000 at Peinador and a loss of 252,000 at Alvedro. According to AENA this number of nett losses is further to the number of passengers who chose to cross the border and fly from to Sá Carneiro airport in Portugal instead if using Galician airports.
When Ryanair began to fly from Lavacolla in 2007, thanks to a Government subsidy of 4 Million Euros, the airline was able to attract a number of international visitors from routes such as London, Frankfurt and Rome. Further domestic rotes were added to the airport, but similar funding or successes were not forthcoming at Alvedro or Peinador, and as such many potential passengers were attracted by the nearby airport at Porto - also a Ryanair base of operations.
For 2010 both Peinador and Alvedro failed to fly 1 Million Passengers.
By the time the current agreement with the regional government of Galicia expires in 2013, Ryanair will have received payments of some 7 Million euros to fly passengers to Lavacolla airport. But what have the benefits been ? The region's other two airports have withered away to almost nothing and the 'conventional' airlines are struggling to maintain competetive routes to the region. Between 2007 and 2011 (through November) Iberia saw a loss of some 522'098 passengers; Spanair 233'851, and Air Nostrum 32'250.
By comparison, Ryanair's gains at Lavacolla over the same period were 844,514 passengers, whist for Air Europe the figure was a much more modest 36,109.