New Minister of Development to be pressed on Corvera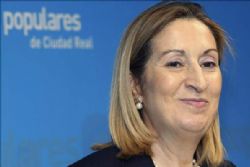 Murcia's Minister of Public Works, Antonio Sevilla, has annopunced how it is a high priority for him to meet with the new Minister of Development, Ana Pastor, to bring the negotiations surrounding Corvera airport to a close.
Amongst other issues the Minister also resolved to press the Minister on the subject of the completion of the RENFE and AVE high speed railway network.
Sevilla is confident that Pastor and Rajoy can bring the project to completion, however, with regards to the possibility of the new government reducing the budger, the Minister commented that Rajoy "has experience in managing the budget shortfalls, as demonstrated when he was in the Aznar government."
With regards to Ana Pastor, the Country's new Minister for Development, Sevilla commented "I think a woman with extensive political experience and a good manager. I hope that we will be useful to advance the issues."