Just one Spanish airline profitable in 2011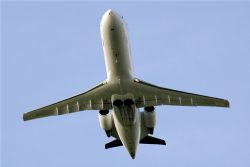 According to Bloomberg, the only Spanish airline to end 2011 in profit will be Vueling, with Iberia (who own 45.85% of the the low-cost airline), Air Europa and Spanair all struggling with escalating fuel prices.
Vueling is expected to end 2011 with a profit of 10 Million Euros, compared to 46 Million Euros for 2010.
By comprison Iberia is expected to end the year with a loss of 78 Million Euros, however this is offset by their merger with British Airways last year to create IAG, with their partner seeing profits of 293 Million Euros.
Air Europa saw losses of 17 million euros, hard hit by their pilots holding strike action foir many Monday's and Thursday's this year, which have forced the cancellation of 300 flights.
Spanair is expected to end the year with losses of close to 115 Million Euros.
As far as other European carries are concerned, Bloomberg analysts expect that Air France-KLM alone will end the year in a loss - amounting to some 600 million euros. Germany's Lufthansa is placed at Europe's most profitable airline, followed by Ryanair, IAG (+ British Airways Iberia) and EasyJet. As far as the Industry as a whole is placed, IATA expect profits of 5.274 million euros.