Murcia tourism expected to reach 11% of GDP next year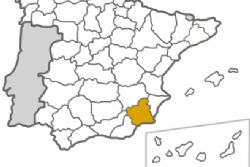 The regional Ministry of Culture and Tourism for Murcia has revealled how the tourism industry of the region has grown significantly - increasing by 2% of Gross Domestic Product (GDP) over the last four years, and is expected to reach 11% by the middle of next year.
Minister Pedro Alberto Cruz met with the board of the Hospitality Association of Cartagena (Hostec) yesterday to discuss, "the principles of European Union sustainability, diversification and recognition of tourism as a strategic sector" with regards to the importance of tourism to the region.
Tourism currently accounts for 9.6% of the regional GDP, expected to increase to 11% in line with other areas of the Mediterranean coastline. The minister attributed this to projects such the new airport at Corvera and the Paramount Pictures theme park project at Alhama de Murcia.
The new Law on Tourism, currently in draft, will be launched by mid next year.