Falling Visitors Numbers Hit Spanish Cinemas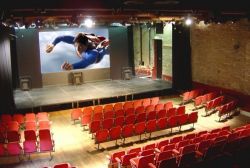 Spanish box office revenues were down 2.7% to reach 628 Million Euros this year, failing to follow the trend of increases seen across the rest of Europe for 2011.
Official industry statistics provided by Rentrak revealled how admissions had fallen 2.2% to reach 95.5 million.
..
However, the box office statistics for Spanish movies increased by 24%, making the total share of nationally produced movies in Spain at 14%.
Even though France and Germany are expected to show a box office upturn of around 4%, Spanish figures have largely been held back by the effects of illegal downloads - where Spain is one of the worst offenders for piracy in the world - and a fall in spending on the back of a failing economy.
The top earning films of the year were : The Twilight Saga: Breaking Dawn - Part 1, and Santiago Segura's 3D pic Torrente 4: Lethal Crisis, which grossed around 20 Million Euros.
Pirates of the Caribbean: On Stranger Tides came third with 19 Million Euros, and Tintin was fourth place with 18 Million Euros.