Spanish unemployment reaches record levels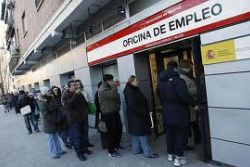 The number of Spanish residents claiming unemployment benefits increased for the fifth consecutive month in December, reaching record highs as the economy's weak recovery from its worst recession in living memory petered out.
According to figures released testerday by the Ministry of Labor, the number of people officially registered as unemployed climbed by 1,897 from November to reach 4.422 million by the end of 2011 - in excess of 20% of the working population.
December is often an anomaly for the labor market, with employers increasing hiring up to and over the Christmas and new year holiday period. In December 2010, jobless claims fell by 10,221.
"The unemployment figures for December confirm the deterioration in the economic situation in the second half of the year," the new secretary of state for employment, Engracia Hidalgo, told a the press. Unemployment for 2011 as a whole saw joblesss numbers rise by 322,286, or 7.86%.