Spain girding for ECB board seat fight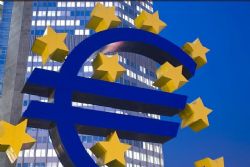 Spain is preparing to battle several smaller and economically fitter northern countries to hang on to its seat on the European Central Bank's influential executive board, well placed euro zone sources told Reuters.
Spain's seat on the six-member board is under threat from, among others, the Netherlands, Luxembourg and Finland, as the euro zone's northern core, unsettled by recent changes which have left Italy and Portugal holding the ECB's top two posts, seek to restore a regional balance at the bank.
The eight-year term of Spain's incumbent, Jose Manuel Gonzalez-Paramo, ends on May 31, opening the door for another country to take the spot if euro zone leaders who will make the decision opt to oust Spain.
Sources say the issue could be discussed at meetings of euro zone finance ministers on February 20-21 or even earlier.
"These countries want to take advantage of the weakness of Spain to try and get a place on the (ECB) board," one euro zone central bank source, who requested anonymity, told Reuters.
"Spain must make every diplomatic effort to try and save its place on the Executive Board," he said, adding that countries yet to have held an ECB board seat may also stake a claim.
While ECB decisions are made by a larger group of 23 - which alongside the board includes the 17 euro zone national central bank heads - the board is particularly influential as it sets the agenda for policy meetings and can vote as a bloc.
Traditionally Spain, like all of the euro zone's top four economies, has always held an executive board seat.
But the country's heavy exposure to the debt crisis, combined with the recent personnel changes, has driven some in the healthier northern euro zone core to push for changes to try to restore a better balance between traditional and activist policy styles.
In the wake of the ECB board changes "there has been a pronounced shift towards pragmatism, without a doubt," a second euro zone central bank source, who also requested anonymity, said.
"There is already public debate over the north-south balance (on the ECB board)... Spain...is not in a strong position. If Germany said it wanted someone from the Netherlands or somewhere like that (on the ECB board), then I doubt they would be in a position to resist."
FRONTRUNNERS
Much has been made of the shift away from the ECB's Bundesbank-style conservatism since Mario Draghi took over as president in November and following the departures of arch hawks Juergen Stark and Axel Weber, who once dominated ECB policy discussions.
The bank has cut interest rates for two months running to take them back to a record low of 1 percent, loosened its lending rules and, in an unprecedented move last month, firehosed euro zone banks with almost half a trillion euros of ultra-cheap and three-year cash to prop them up.
Regardless of what happens in the race, the departure of Gonzalez-Paramo will be the final change in a complete overhaul of the ECB's Executive Board over the last two years.
The Netherlands opened the debate on ousting Spain from the ECB board in May last year when it voiced its worries about the policy balance among the six members.
Lex Hoogduin, a former Dutch central bank board member, has been touted as one potential candidate to replace Gonzalez-Paramo, although media reports that he does not get along with the country's Prime Minister Mark Rutte may reduce his chances.
Erkki Liikanen and Yves Mersch, the respective heads of Finland and Luxembourg's central banks, are also seen as frontrunners. As two of the longest serving ECB policymakers, they might be seen as sensible appointees following the joint arrival on the board of inexperienced new faces Joerg Asmussen and Benoit Coeure.
However, Spain also has a standout candidate in its former central bank governor Jaime Caruana who is currently the head of the Bank for International Settlements.