Spain 'may have already entered recession'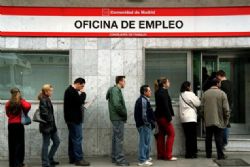 Spain's National Institute of Statistics (INE) have published statistics earlier today, depicting a worrying state of the economy of the country.
Increasing levels of unemployment, which are teetering around 21.5% with little signs of improving in the near future, together with an industrial output, which was shown to have fallen 7% year-on-year in November, are compounded by the economy as whole shrinking in the previous quarter.
The prediction for the first quarter of 2012 is also expected to contract, and with the Economy as a whole shrinking by 0.8% over 2011, analysts have concerns that the country may have already entered a recession.
This echoes a statement made before Parliament by Spain's Minister of Finance, Cristobal Montoro, yesterday : "The economy has stalled, it is on the edge of a recession," he told the house.
November's figures were the worst in more than 2 years, when industrial output plummeted to 7.0%, following a 4.2% fall in October.