Spain banks' Dec ECB borrowing near record high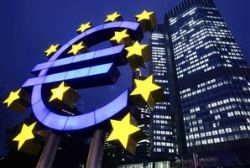 Spanish banks' borrowing from the European Central Bank rose to near-record levels in December as they took up its unprecented offer of longer-term funds, data from the Bank of Spain showed on Friday.
The data showed banks borrowed 132.4 billion euros from the ECB last month, up from 106.3 billion euros in November. That was only just below the 140 billion euro record high hit in July 2010.
Borrowing from the ECB by Italian banks showed a similar jump after the central bank injected 489 billion euros at its first-ever tender of three-year funds on Dec. 21.
"It's unsurprising (Spanish banks' borrowing) has risen by so much after the three-year refinancing operation," said Nick Matthews, economist at RBS.
"It's in line, although less than what happened with Italian banks, and it could increase further in January with another three-year auction scheduled for February."
The data showed total net borrowing was 118.9 billion euros, up from 97.97 billion euros in November.
Spanish banks have been struggling with regulator demands for more capital to cushion against unsellable property, loans to bankrupt real estate developers and higher rates of loan default in a country with 23% unemployment.
Newly-appointed Economy Minister Luis de Guindos has said banks may have to put aside 50 billion euros in provisions and the government has ruled out a bad bank to deal with rotten property assets at a state level.