Spanish deficit and debt NOT the fault of the regions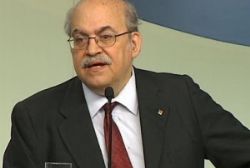 Andreu Mas-Colell, the Finance Minister for the Generalitat Catalunya, has written a letter to the Editor of the New York Times defending the position of Spain's Autonomous Communities in the face of mounting criticism and the blame for the country's escalating deficit.
The Regions have been widely blamed by Central Government, various credit ratings agencies, and even Olli Rehn, the European Commissioner for Economic and Financial Affair, for leaving Spain with unamanagable levels of debt.
The Minister goes on to quote some interesting, yet unproven, statistical data - notably how 62% of Spain's 2011 defict was due to spending by central government, as was 75% of all public spending.
Rosell went on to defend the position of the regions by saying how they control 40% of the total spending and yet are responsible for healthcare, education, social grants, public transportation, etc... whose costs have all increased in times of crisis, while levels of funding have decreased.
The Minister, previously Professor of Economics at Harvard University, wrote the letter in reply to a previous article by the newspaper, criticising the regions for the crisis the country is struggling to overcome.