'No guarantees' Castellon airport open by May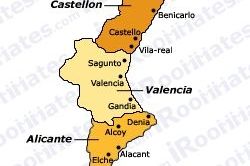 Castellon Airport appears in all Aeronautical charts issued to pilots, in case of necessary diversions or emergency landings, despite not being operational.
Carlos Fabra, the President of Aerocar - the company behind the private airport, has even been unable to offer guarantees that his latest self-imposed deadline of being operational by May will be met.
Many of the Golf courses and other industries reliant on the tourism industry are waiting for the airport to deliver the long-promised visitors to the region but nonetheless Juan Salas Garcia, the Director at the airport, is still urging further investment.
"We have to sell what we have and, at this point the only sector that has no crisis is tourism, which is why we must invest.... We have the same right as any other Province to have an airport and we will continue to spend time and money until Castellón ceases to be the most overlooked Province in Spain."