3'500 attend Castellon Airport protest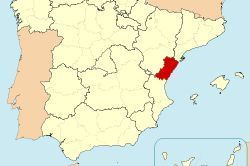 The demonstration held this weekend outside the grounds of Castellon Airport, attracted far more protestors than initially expected, with numbers being estimated to be around 3'500.
A number of unions had called the demonstration partly over the recent austerity measures and cuts to public spending - notably in Education - imposed by the Generalitat of Valencia, and partly in protest over the mismanagement of a number of key projects in the region, notably the airport at Castellon.
PSPV-PSOE also supported the protest and as such a number of prominent politicians attended the event.
The Unions claim tha since 1996 the region has squandered an estimated 600 million euros on mismanaged projects such as the hosting of the Formula One Grand Prix, the Terra Mitica theme park in Beneidorm (where the Generalitat held shares until recently), City of Light, the the City of Languages, and the Volvo Ocean Race. However, the debts incurred in the constrcution and promotion of the airport - which is still without passengers one year after being open - have angered Valencians the most of all.