EU Forces Spain to make further cuts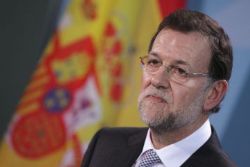 The EU has been demanding that Spain makes further reaching budget cuts in a first round of increasingly stricter financial ruegulations intended to prevent the country's debt crisis from escalating.
Just 2 weeks after Rajoy increased the Spanish deficit target for this year, EU finance chiefs called on Spain to shave a further 0.5% of GDP from the 2012 budget.
The PM of Luxembourg commented that Rajoy's goal of a 5.8% of GDP budget for this year 2012 "is dead," after chairing a meeting of eurozone finance ministers in Brussels. Spain remains committed to achieving a target of reaching the eurozone's 3% limit in 2013.
The Luxembourg PM reminded reporters that the 3% Eurozone target for 2013 is the most important of the two targets.
The EU is aiming to enforce the strict rules in place since Dercember to show how previous repeat violators of agreed deficit limits, such as Greece, will not go unpunished.
Although an unexpected and unpopular move, Spain's announcement that they would exceed the 4.4% deficit target by some margin, saw an agreement by many EU ministers that the original 2012 goal was no longer achievable after Rajoy inherited a higher-than-expected shortfall last year from the previous administration.
Spain's deficit reached 8.5% of GDP in 2011, overshooting the 6% figure pledged by the outgoing PSOE Socialist government. Most of the slippage was due to bigger-than-forecast regional deficits.
Spain's new Minister for the Economy, Luis de Guindos, left the meeting without commenting on the unexpected fiscal announcement, but had earlier commented that "Spain's commitment to budget rules is absolute."
The new PP administration has already implemented 15 billion euros of austerity measures, including higher income-tax rates. The government forecasts the economy will shrink by 1.7% this year with unemployment surging to 24%, making it difficult to raise revenue.
Th EU's Economic and Monetary Commissioner Olli Rehn, in charge of policing the deficit rules, said Spain is now on a "convincing path of fiscal adjustment" in 2012.