Strike at Barajas to go ahead, Unions call on Minister to mediate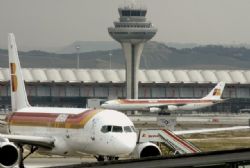 The Committee of workers at Barajas airport has asked Labour Inspectors to mediate in the dispute that has led to the call for strike action, due to AENA being unwilling to open a dialogue with the workers.
The series of 24 hour strikes has already been called for the 16th and 19th March, 4th, 8th and 30th April, and the 2nd and 3rd of May.
The Committee of workers, which is made up from representatives from the CCOO, CGT, USE, UGT and CSPA Unions is taking action in protest over the management's refusal to observe recommended and agreed staffing levels of certain roles at the airport.
As such the Committee is calling for the immediate appointment of 9 new members of staff to meet the minimum numbers imposed by the Minisrty of Development in the areas of Navigation; Fire Safety; Operations and Maintenance.
Labour Inspectors had previously intervened at the request of the committee, and found that these services were operating below the recommended staffing levels.
The Committee also sent a letter to the Minister of Development, Ana Pastor , asking her to "intervene, negotiate and respect" agreements dated from March 16, 2011 which promised to honour recommended staffing levels.