Spain committed to deficit target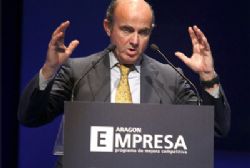 Spain's Economy Minister Luis de Guindos said on Friday his country is fully committed to meeting its deficit target and that any comparisons to Greece were "total nonsense."
De Guindos also told reporters in Singapore that labour market reforms were key to help the economy and create jobs but the Spanish government had the leeway to cut deficits of regional governments.
Spain, one of the euro zone laggards alongside Portugal, Italy, Ireland and Greece, had an unemployment rate of 22.9% at the end of last year. The number of people without work rose by 2.4% in February from January, the Spanish government said earlier this month.