Caixabank buys Civica at third of book value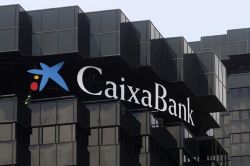 Caixabank bought smaller rival Banca Civica for one third of its book value late on Monday, creating Spain's biggest bank by domestic assets.
Shares in Caixabank were 2.7% higher at €3.168 at 0945 GMT euros.
Shares in Banca Civica, created less than 2 years ago by a tie-up of regional saving banks Caja Navarra, Cajasol, Caja Canarias y Caja de Burgos, plunged 11% after resuming trade on Tuesday to the bid price of €1.97.
Barcelona-based Caixabank, one of Spain's strongest lenders, agreed to buy Civica in an all-share deal valuing Civica at €980 million euros, 27% less than the Civica's initial public offering price when it floated in July 2011.
"It looks like a bailout deal for Banca Civica in which the controlling cajas had no choice but to accept such a discount," said Francisco Riquel, analyst at N+1 Equities, who had a €2.40 fair value estimate for the well-flagged deal.
A second wave of consolidation in the Spanish banking sector is under way as lenders look to raise capital levels to cover losses sustained after a decade-long property and construction bubble collapsed in late 2007.
Banca Civica, alongside Bankia and Banco Popular , is one of the Spanish banks with a heavy exposure to property with around €10.5 billion of troubled real estate assets including repossessed property and bad loans.
Caixabank said it would write down losses of €3.4 euros on Civica's books.
CaixaBank is around four times the size of Civica and the move will form Spain's biggest bank in Spain's domestic market, outstripping even Santander and BBVA.
Under the terms of the deal, Civica shareholders get five Caixabank shares for every eight Civica shares.
Banca Civica will give Caixabank more reach in Spain's most populous region Andalusia and will give the bank around 15% of Spain's retail banking market.
Caixabank sees cost savings of €540 million by 2014 and expects €1.1 billion of restructuring costs.
CaixaBank will not receive state funds for the takeover and will pay back the €977 million that Banca Civica has received from the state-backed restructuring fund FROB.
As the newly installed Spanish government aims to reduce the number of lenders to around 10 from more than 40 before the economic crisis, the deal will also make it more difficult to find a merger partner for Bankia SA.
Bankia is particularly exposed to real estate and is defined as a systemic bank that could drag other lenders down if it had trouble writing down its losses related to property.
Sources had told Reuters that the government had hoped CaixaBank would step in to absorb Bankia's toxic real estate assets.
Caixabank hopes to finalise the deal and get the approval of their shareHolders by June 30. The combined entity has a core capital ratio of 10.4%, well within European guidelines.
Sources close to CaixaBank said the lender could issue new shares to finance the takeover.