Italian PM 'not worried about Spanish contagion'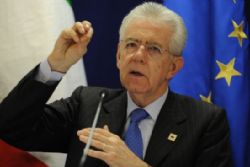 Italian Prime Minister Mario Monti said on Wednesday that he was not worried about economic troubles in Spain spreading to the rest of Europe, further downplaying comments he made over the weekend that Madrid's fiscal problems could reignite the euro zone debt crisis. "Spain, I'm sure, is on a steady course of budgetary consolidation," Monti told reporters in Tokyo where he arrived from a nuclear security summit in South Korea.
"And contagion as a whole, I hope, will soon belong to the past now that more discipline has been adhered to by most member states, and now that the firewalls are being in the process of being fortified."
Monti on Saturday had expressed concern about the state of finances in Spain and said it would not take much to reignite the euro zone debt crisis and revive the risk of it spreading to Italy.
Few days later, however, he said he had "total confidence" in Madrid's economic management after meeting his Spanish counterpart Mariano Rajoy on Tuesday on the sidelines of the nuclear summit in Seoul.
Monti, who replaced beleaguered Silvio Berlusconi in November, rapidly pushed through austerity measures, while Spain shocked markets last month when it said it had missed its 2011 budget deficit target and set itself a softer goal for 2012.
But with sense of fiscal emergency coming slightly off the boil in Italy, his recent drive to force through labour reform -considered crucial for economic revival- has run into opposition.
Monti said labour reform was the fourth key theme for Italy after he tackled budgetary consolidation, pension reform and liberalisation of the service sector.
"Of course my view is that it is a bold and balanced package," Monti said of the plan, which makes it easier for firms to fire employees and gives them financial incentives to hire permanent workers rather than temporary staff.