German envoy gives nod of approval to Spain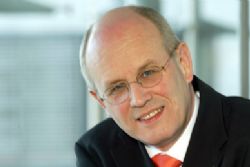 An envoy of Germany's Chancellor Merkel, Volker Kauder, met with Mariano Rajoy in Madrid yesterday to discuss amongst other issues Spain's recent measures to tackle it's rising deficit levels.
Following the meeting Kauder told the press that "from what I see, there is no necessity at the moment for there to be any talk of Spain having to apply for aid from a rescue fund."
He continued to explain how Europe's fourth largest economy is doing everything it can to reach Rajoy's goal of reducing the budget deficit to 5.3% of GDP by the end of the year.
Earlier last month Rajoy defied an EU agreement to control debt levels by raising the country's defict target.
In a later statement, Kauder reiterated his earlier comments, confirming how he believes that Rajoy's goals "are achievable" and that the country is "on the right track."