Spain 'has enough firepower to handle banks'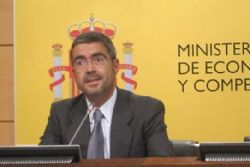 Spain has enough financial capacity to handle a rescue of its ailing banks in case of need, Spain's Economy Secretary Fernando Jimenez Latorre said on Friday, ruling out in any use of EU funds to bail out the sector.
"(I rule out the use) of European funds, absolutely. The eventual need of public funds would be very limited. Nothing indicates that the Treasury would not have enough capacity in the eventuality it would be necessary to assume these needs", Jimenez Latorre said at an event in Madrid.
"We don't believe right now that it will be necessary, but in any case it would not be of such a magnitude that we would need to use EU funds."
The Spanish government has repeatedly ruled out the possibility of tapping money from the temporary or permanent bailout funds, although many analysts believe it will have to do so if Spain's economic situation keeps deteriorating.
Standard & Poor's on Thursday cut its credit rating on Spain by two notches, citing expectations the government finances will deteriorate even more than previously thought as a result of a contracting economy and an ailing banking sector.