Support for PP slides following Spain bailout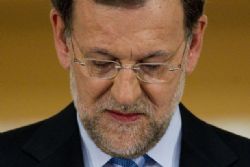 A recent poll of public opinion has shown how support for the PM is dwindling following last week's bailout.
The survey, conducted by Sigma Dos early last week, revealed how 43% of Spaniards view the right-wing Partido Popular government unfavourably, compared to just 22.4% in January ofn this year.
A similar poll, undertaken by Metroscopia, showed how 47% of Spaniards consider the bailout to be a negative move, whilst 40% believe it be a poitive one.
Overall, support for the PP has slid by 5.5%, with the left-wing Izquierda Unida and Union Progreso y Democracia together gaining 4.6% between them.
The 1'000 Spaniards surveyed by Sigma Dos also contributed to Rajoy's fall in support to his handling of the current financial crisis.
A overwhelming 92% of those surveyed were also in favor of creating a commission in Parliament to investigate the contraversial failed nationalization of Bankia.