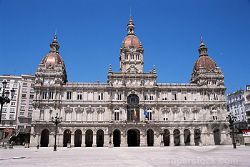 When you move to a new area in Spain you must register on the Padrón at the town hall as soon as possible. This is similar to the electoral role, but has much wider useage in Spain than in the UK
The town council receives a certain amount of government funding for each person registered on the Padrón. This means they have more money to spend on facilities and services for residents.
Registration for the Padrón takes place at the town hall (el ayuntamiento). You don't usually need an appointment, although be prepared to wait if there is a queue.
All your family should be registered if they are resident in Spain, this includes children under 18.
You will need the following documents and will be asked to complete a registration form:
Passport (As with all Legal & Financial matters in Spain, it is adviseable to keep multiple copies of everything !)
Proof that you live here (Take a copy of your escritura, or your Rental agreement)
NIE - Not strictly necessary, but take a copy if you have it
Once you are registered on the Padrón you will be able to:
Vote in the local elections (make sure the town hall has your post office box address if you have one, to ensure you receive your voting card)
Register your children at school
Register with your local medical centre
Buy a car
The process is usually very quick and simple and won't cost you anything there and then (Although it will mean that you will be liable to pay local Taxes - once per year around May, but these are considerably less than than the local Taxes in the UK)